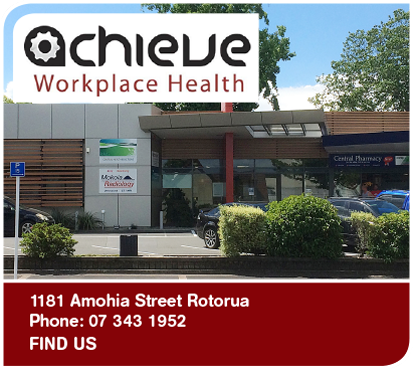 Achieve Workplace Health
Achieve Workplace Health provides occupational health nursing services. We can assist your work place to meet all legal obligations under relevant workplace related Acts, and to keep your workers safe and healthy.
Raewyn Simpson | Occupational Health Nurse
RN(Comp) PG Dip Occ Health (Otago)                                                                               
Member of NZOHN Association
Raewyn is a highly regarded Occupational Health nurse who has been working successfully with local, national and international businesses for several years. Achieve Workplace Health staff are able to help your organisation or business with workplace practices, improved employee health, reduced absenteeism, reduced injury rates, and rapid return to work for employees.
At Achieve Workplace Health we listen to your needs and tailor our services to be relevant and cost effective to you.
Our range of services include:
Pre-employment Medical Assessments
Immigration Medicals – we are a provider of immigration examinations for Immigration New Zealand
Fitness for duty assessment
Post Employment Medical Assessment
Annual Health monitoring, including hearing,vision, and lung function
Noise Management Programmes / Hearing Conservation
Attendance Management Systems
Well Worker Checks
Asbestos Medicals
Ergonomic Work Station Assessments
Injury Prevention Consultancy and Training
Health and Safety Consultancy
Drug and Alcohol screening
Annual Flu Vaccine
Seminars and Workshops on a range of topics including:
o Manual Handling
o Back Care
o Musculoskeletal (OOS)
o Stress and Fatigue Management
o Ergonomics in the Workplace
o Health and Safety in the Workplace
o Health Monitoring
We are an Approved collection agency compliant to AS/NZ4308:2008.
Raewyn Simpson, Sheryl Rumbal and Katrina Bott are all approved collectors and are all NZQA accredited.
We can provide alcohol breath testing and instant and laboratory drug testing which meet the AS/NZ 4308:2008 standard of compliance.
Call us on 07 343 1952 or 07 347 0000 (and choose Option 2 for Occupational Health when prompted) 
The new Health and Safety at Work Act came into force on 4 April 2016 
The detailed regulations are now available on:
http://www.business.govt.nz/worksafe/hswa/legislation/hswa-regulations
http://www.legislation.govt.nz/regulation/public/2016/0013/latest/DLM6727530.html